Huanghe Whirlwind's Key Technology and Application of Forging Cubic Synthetic Diamond Press' project passed the evaluation of scientific and technological achievements
2021-07-19 12:10:01
Recently, the 'Key Technology and Application of Forging Forging Cubic Synthetic Diamond Press' project declared by Huanghe Whirlwind was reviewed by experts organized by Henan High-tech Entrepreneurship Service Center and passed the evaluation of scientific and technological achievements.
The the  'Key Technology and Application of Forging Forging Cubic Synthetic Diamond Press' project was jointly completed by Henan Huanghe Tanaka Came Press Co., Ltd.(subsidiary of Huanghe Whirlwind), Henan Huanghe Huanghe Whirlwind Co., Ltd. and Zhengzhou University of Light Industry. The experts for this evaluation include Gao Wensheng, a professor-level senior engineer of the Henan Mechanical Engineering Society, Professor Su Zhijian from Zhengzhou University, Professor Luo Guofu from the Henan Key Laboratory of Mechanical Equipment Intelligent Manufacturing, Professor Liu Jianxiu from the Yellow River Institute of Science and Technology, and Professor Hao Yongxing from North China University of Water Conservancy and Hydropower composition.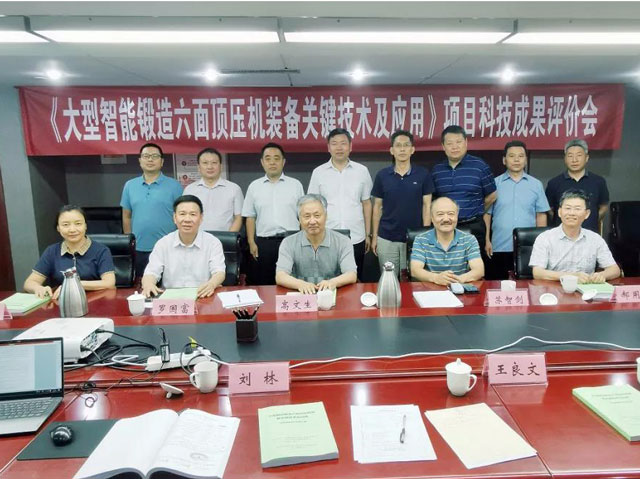 After expert review, it is believed that the project has developed a six-sided diamond pressing machine for forged hinge beams with a cylinder pressure greater than 110MPa, designed an integral forging die, and realized the integrated die forging forming of the hinge beam, and solved the problem of low strength and structure of the cast hinge beam. Complex and other issues; in view of the numerous factors that affect the assembly accuracy of the six-sided top press and the mutual coupling, a tolerance-based press equipment processing accuracy prediction method is proposed to improve the assembly accuracy of the collection; a boundary element method based on The fatigue failure analysis method solves the problem that the hinge beam of diamond six-sided top press is prone to fatigue failure under the action of variable load; the structure and assembly relationship of key components such as top hammer and spacer block are optimized, and the work of the press is improved. Stability: The developed electro-hydraulic integrated control system has the characteristics of synchronization, centering and high precision control, which meets the requirements of automatic control of large six-sided top presses. The product design of the project is reasonable, the technology is advanced, and the practicability is strong. It has innovation in the research of the key technology of the forging intelligent six-sided top press, reaching the international advanced level.
After a comprehensive review by the expert group, the participating experts unanimously agreed that the 'Key Technology and Application of Forging cubic synthetic diamond Press' project declared by Huanghe Industrial Group passed the scientific and technological achievement evaluation. Welcome to contact us if you are looking for synthetic diamond making machine & hpht press for sale.
Inquiry
Please leave us your requirements, we will contact you soon.