The New Leaders of Huanghe Whirlwind Delivered an Important Speech
2020-12-02 12:08:07
On the morning of May 19, the members of the 8th leadership team of Huanghe Whirlwind met with all the management cadres of the company, and the mobilization meeting was grandly held in the international conference hall on the fourth floor of the R & D center. The new chairman of the leadership team, Wenlong Pang, general manager Zhiqiang Chen attended the meeting and made important speeches. Deputy general managers Hui Guo, Ziyong Zhao, Mingtao Li, Tianyun He and Xiwang Wu attended the meeting. The meeting was chaired by Mingtao Li, deputy general manager.
Chairman Wenlong Pang
New team, new mission, new journey. At the meeting, general manager Zhiqiang Chen first gave a generous and mobilized speech around the core values of "customer-centric, employee-based, prideful, deeply grateful, and a foundation of integrity". And answered with this core value: Why should we fight for Huanghe Whirlwind, what should we become, what should we do, what is the most valuable, what can't be done, and why we must succeed.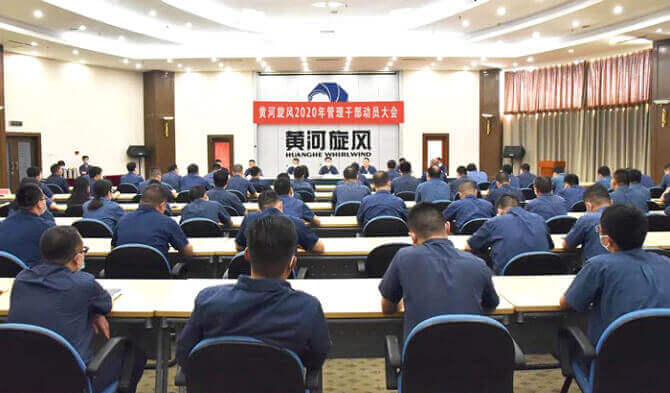 General Manager Zhiqiang Chen
President Chen emphasized : The Huanghe Whirlwind should focus on super-hard materials and applications and powder metallurgy. Each sector is the highest standard in the industry, deep, special, strong and wide. Talents are always the most important. The employees of the Huanghe Whirlwind are the company's most valuable assets. The company must achieve talents with both virtues and talents through talent selection, training and selection. The company should establish a one-hour communication service mechanism with customers, a monthly technical service customer mechanism, and an annual site visit customer mechanism, and make this mechanism keep pace with the times, and be inherited and innovative. Through the mission of achieving employees, benefiting customers, serving the society, serving the motherland and benefiting the world, the company can achieve sustainable development and become a world famous brand.
President Chen pointed out: In the development process of Huanghe Whirlwind, from major shareholders to grassroots employees, from customers to suppliers, from government agencies at all levels to peers, everyone hopes that Huanghe Whirlwind will get better and better. As long as all employees of Huanghe Whirlwind are united, there are no unsolvable problems and unachievable goals. Therefore, the choice of Huanghe Whirlwind is: to continue to move from success to success, from victory to victory, to create a true century shop. The new members of the leadership team of the Huanghe Whirlwind have undertaken historical responsibility, shouldered great responsibility for development, and interpreted their loyalty to the development of Huanghe Whirlwind and the company's development with a spirit of unity and forging ahead, with a strong sense of responsibility and selfless dedication. Unlimited expectations. All the management cadres of the company witnessed this memorable moment.
Inquiry
Please leave us your requirements, we will contact you soon.