Huanghe Whirlwind – Leading Intellectual Property Enterprise in Henan Province
2020-04-18 12:08:26
Recently, the awarding ceremony of Henan Intellectual Property Leading Enterprise was held at the Henan Huanghe Whirlwind R&D Center. Cheng Wei, deputy director of Changge Market Supervision and Administration Bureau, Li Fuqin, chief of intellectual property unit, and Wu Xiwang, deputy general manager of Henan Huanghe Whirlwind Co., Ltd., attended the awarding ceremony.
"Henan Province Intellectual Property Leading Enterprise" is one of the highest honors in the field of intellectual property management in the province. According to the requirements of the "Notice on Carrying out the Recordation Work of Cultivating Strong Intellectual Property Enterprises in Henan Province" (Yuzhi [2021] No. 47), it is organized and implemented by the Provincial Intellectual Property Office. It is carried out once a year and is voluntarily declared by enterprises and recommended by local intellectual property management departments , expert review, online publicity and other links.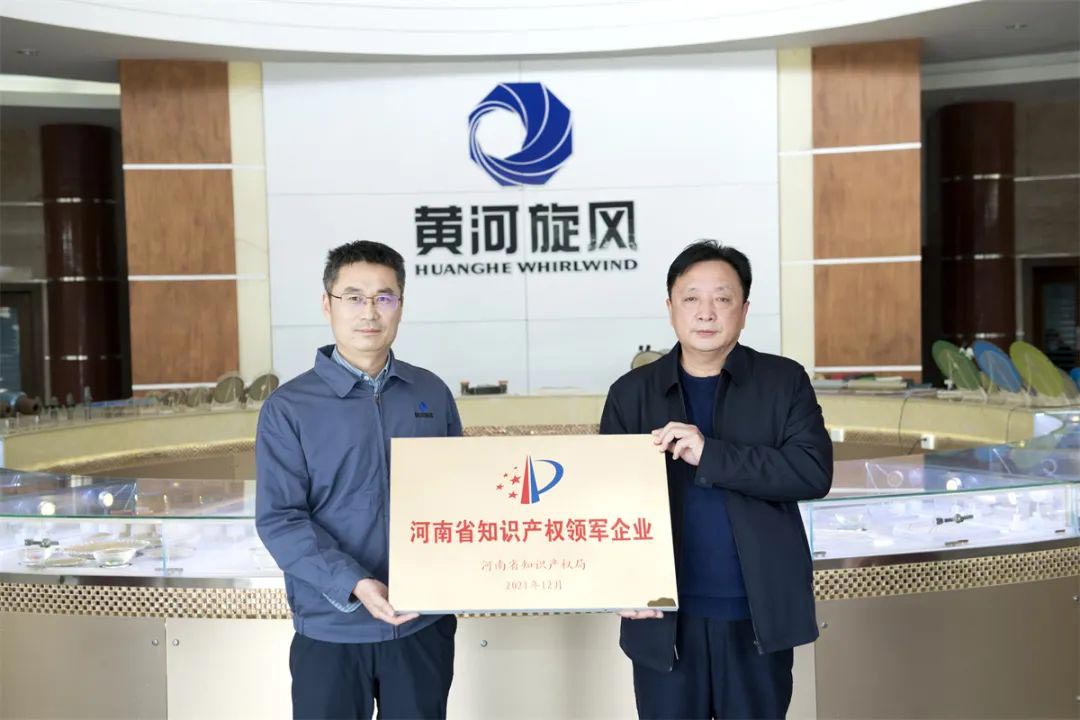 Henan Huanghe Whirlwind Co., Ltd. is the first listed private enterprise in the domestic superhard material industry, and the only domestic enterprise with diamond and product layout in the entire industry chain. Huanghe Whirlwind has set up special funds for intellectual property rights, formulates intellectual property budgets and final accounts every year, and refines the management and use of intellectual property expenses. A relatively complete intellectual property management system has been established, and a series of intellectual property management systems such as the Intellectual Property Management Manual, the Intellectual Property Reward and Punishment System, and the Intellectual Property Acquisition Control Procedure have been compiled and issued. It regulates the intellectual property work in the whole process of production and operation of Huanghe Whirlwind R&D, production, sales, procurement, etc., and fully mobilizes the enthusiasm of R&D and technical personnel for invention and creation. In May 2020, the company's patent number ZL20120078919.3 "a patent for a method of making diamond surface protrusions" won the first prize of the 2nd Henan Province Patent Award.
Huanghe Whirlwind was awarded "Henan Province Intellectual Property Leading Enterprise", which is the first provincial intellectual property honor that Changge City has won. Cheng Wei, deputy director of Changge Market Supervision and Administration Bureau, congratulated us. He pointed out that the identification of Henan Province's leading intellectual property rights enterprises aims to improve the ability and level of enterprises to use the intellectual property system, enhance the ability of enterprises to create, protect and manage intellectual property rights, and cultivate advantageous enterprises with independent intellectual property rights and strong market competitiveness.
In the next step, Huanghe Whirlwind will further strengthen intellectual property management, let intellectual property run through the whole process of production, research and development, sales, etc., continue to increase investment in intellectual property funds, introduce and cultivate intellectual property talents, and build the company into the creation and application of intellectual property rights, protection and management level industry-leading enterprises, let intellectual property become a powerful driving force for the high-quality development of enterprises, and provide a strong guarantee for the company's high-quality development and internationalization process.
Contact us for free quote of super-hard material and products now!
Inquiry
Please leave us your requirements, we will contact you soon.